Arizona Gives Day 2019!
Yesterday, Daring Adventures took an AMAZING man, Doug Clough, who is battling with ALS part way up Camelback Mountain. This was the original place he proposed to his wife, and he wanted to renew his vows and thank her for everything she has done for him and his family these last couple of years as his health has declined because of ALS. Doug has served on many committees and initiatives surrounding ALS including the Executive Advisory Board for the national ALS Association, and the Centers for Disease Control's ALS Registry Taskforce. Additionally, Doug is one of three people with ALS serving on the Advisory Council for the International Alliance of ALS/MND Associations.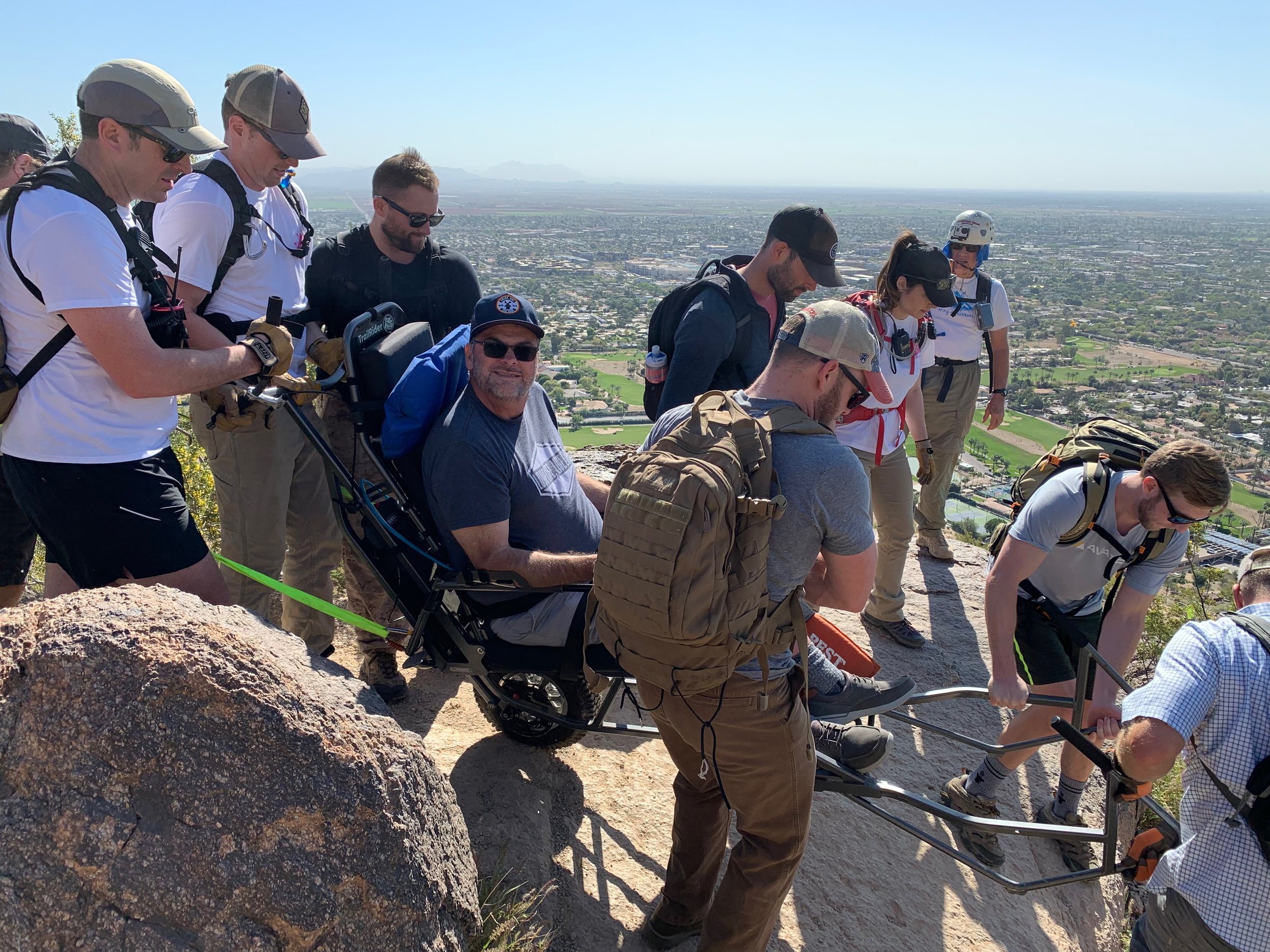 Daring Adventures partnered with Central Arizona Mountain Rescue Association to take Doug to reach "HIS EVEREST" using our new Trail Rider. Even though this Trek for Doug is a unique activity for Daring Adventures, assisting him to reach "His Everest" is the same thing that occurs with each participant in the many programs that Daring Adventures offers. With Arizona Gives Day tomorrow Tuesday April 2nd this was an example of the significant impact that Daring Adventures has on Arizonans. We need help from the community so we can continue improving the lives of people of all abilities. You can support Daring Adventures on April 2nd by going to www.azgives.org/daring-adventures

There is ONE MORE DAY to help us spread the word far and wide. Can you help us out by doing two quick things? First, donate to Daring Adventures tomorrow by visiting https://www.azgives.org/daring-adventures Second, tell 10 of your friends, and ask them to contact 10 of their friends. Every donation will help support our cause!
Daring Adventures is a Qualifying Charitable Organization under the Arizona Tax Credit Program so it is a "Win Win" situation if you make a donation to Daring Adventures. You Give and YOU GET! Donate $400 as a single or $800 dollars married filing jointly and receive that amount back as a credit on your Arizona State Income Tax! Who does not love free money? Best of all you can still use the donation towards your 2018 Tax Liability with the State of Arizona! Check out this video for more information!

And remember, you do not have to wait until April 2nd to make your donation, you can pre-schedule your contribution today by go to this link: https://www.azgives.org/daring-adventures
Make your dollar go farther by investing in Daring Adventures during one of the following POWER HOUR times. Based on the size of your donation, you can help us win up to $5,000 extra prize dollars to be used in our next year of adventures.

2:00pm-3:00pm $100.00 Minimum Donation- $5,000 Prize
3:00pm-4:00pm $25.00 Minimum Donation - $1,500 Prize
4:00PM-5:00PM $50.00 Minimum Donation - $2,500 Prize
Last year, Daring Adventures engaged over 2,200 people in exhilarating outdoor adventures. Help us serve MORE! Your give can help us continue to improve the lives of people with disabilities and significant life challenges through the power of outdoor recreation.
The clock is ticking, and the time is almost here! Invest in Daring Adventures TOMORROW!
Help us harness the power of collective giving! We'd love your support.
Check out our video of "Why We Do, What We Do"!
Thanks for your support and please let your friends know and tell them to tell their friends to support US!